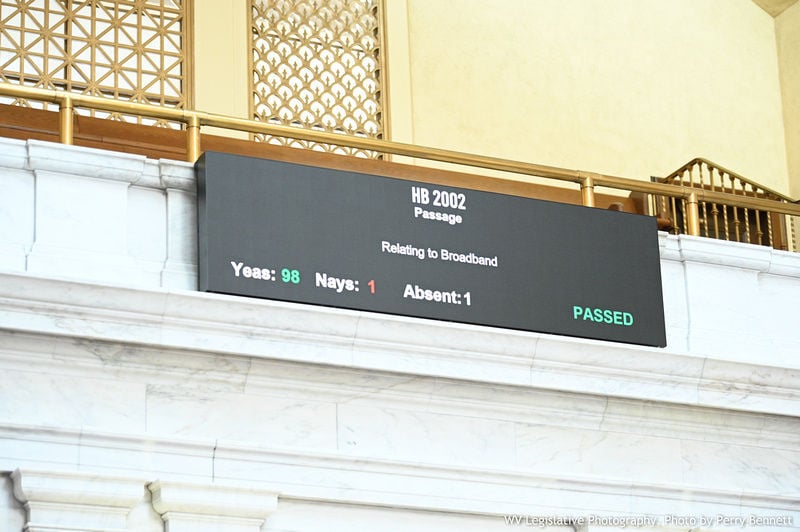 The West Virginia House of Delegates has passed a broadband bill that its lead sponsor called the "single most important thing" they could approve in 2021.
If it becomes law, delegates hope House Bill 2002 will streamline and speed up the installation of broadband lines in West Virginia, especially in the state's rural mountains and hollers, and provide more consumer protections for broadband users.
The House adopted the bill by a margin of 98-1, with one member absent Wednesday afternoon. Delegate Pat McGeehan, R-Hancock, was the only vote against the bill.
The bill will advance to the Senate.
If it becomes law, House Bill 2002 will address what lawmakers say is beyond a bipartisan issue — access to reliable and affordable broadband internet access.
Gov. Jim Justice mentioned the need for broadband access during his State of the State address in February, but he didn't provide a plan to do so.
The bill's lead sponsor, House Technology and Infrastructure Committee Chairman Daniel Linville, R-Cabell, said the bill was overdue.
"It's the single most important thing we can do this year, given the COVID-19 pandemic," Linville said. "It was important long before that. This is 21st century infrastructure. This is something we've got to do and do it now."
Every delegate who talked about the bill during debate Wednesday commended Linville, an information technology specialist by trade, for his work on the bill.
The bill in effect expands existing laws about broadband installation with the goal of speeding up the permitting and installation processes for broadband installation companies. It also provides new protections for broadband customers under the state's consumer protection laws.
The bill would specify protections for broadband customers that would allow them to file complaints with the Consumer Protection Division in the West Virginia Attorney General's Office, Linville said.
If the bill becomes law, when a broadband customer experiences a service outage that lasts for more than 24 hours, the service provider would have to provide a rate credit to the customer for that time.
"The idea behind that is to push industry behavior," Linville said Wednesday evening. "We want quick resolution to outages and things of that nature, so one of the ways that we, as legislators can do that is try to make their revenues contingent on their performance."
To speed up the process of installing new broadband, the bill would expedite the permit process and have broadband companies share in the cost of a project with utility companies and other entities that do work that requires digging in right-of-way areas maintained by the West Virginia Division of Highways.
Current law allows the broadband companies to install the lines only when the ground is open for DOH or electric utility repairs.
If a utility company already has completed studies and obtained permits for their work, those permits would be applicable to the broadband company. The "dig once" philosophy allows for multiple projects to be completed at once while the ground is open.
For broadband companies to be able to access the open ground, a project would require a trench that is longer than 1,000 feet, under the proposed law.
The bill also puts the West Virginia Office of Broadband into state law and clarifies the duties of that office and the West Virginia Broadband Council.
Once a broadband company has the appropriate permits and applies to begin work on a project, the Office of Broadband and the Division of Highways will have a set number of days to process and respond to applications.
If the relevant officials fail to respond within the time frame, the project is automatically approved.
Linville has called it a "shot clock" on the application process.
The bill also allows for county and municipal governments to join co-ops among other entities that would let neighborhoods, non-profits or other groups band together to install broadband in local communities.
Under questioning from House Minority Finance Chairman Brent Boggs, D-Braxton, Linville said he had been assured by leaders in the Republican-controlled House and Senate, as well as by people with Gov. Jim Justice's Office that $50 million per year for the next three years would be made available for efforts to expand broadband access in the state, but the bill on its own doesn't set up any specific funds or costs for the state.
Linville also told Boggs that creating these systems, particularly the one that allows local governments to get involved in the process, would allow West Virginia access to potentially $1 billion in federal money meant to likewise make broadband more accessible.
"One of the biggest problems we've had with co-ops getting started and getting going has been the lack of available funds that some of our [local governments] may, in fact, be able to receive," Linville said.
Boggs voted in favor of the bill.
"It's something many of us have been crying in the wilderness about for a long time," Boggs said. "Especially those of us that represent rural areas and live in rural areas, it's been frustrating at best."
House Bill 2002 means to open up the market for broadband cable internet service in the state instead of one or two cable companies in certain areas, if there are cable companies at all, and deliver broadband to hard-to-reach places in West Virginia, Linville said.
"I think this bill, and much of our work in the Legislature, has taken the tack that we want people to have choice, competition, quality, and the free market pressures that would be inherent just like you have with various industry delivery services, like UPS and FedEx," Linville said. "I look at broadband delivery just as any other delivery service that operates upon infrastructure which the government may build."